International Web Conference MY BODY, MY CLITORIS
sat07may7:00 pmsat8:00 pmInternational Web Conference MY BODY, MY CLITORIS
Event Details

Dear sisters and brothers,

You are warmly invited to Clitoraid's first International Web Conference MY BODY, MY CLITORIS on Sat May 7 @ 7PM, NYC time. (access is totally free of charge) This arousing, one-hour presentation on the clitoris, a cherished female anatomical treasure, promises to dazzle you and to leave you with a deep feeling of peace! The educational, playful conference aims at unveiling the mysteries of the clitoris, stripping it of all guilt and shame and leaving it 'pleasure-ready', as it was designed to be. The conference is part of Clitoris Awareness Month in May. It will be graciously hosted by Clitoraid's International Communication Director, Nadine Gary, Raelian Priestess.


Clitoraid has invited a panel of experts in female sexuality and sexual pleasure
Dr. Marci Bowers, MD, Gynecologist and Gender Reassignment surgeon. Dr. Bowers is Clitoraid's head surgeons. She performs clitoral restorative surgery on Female Genital Mutilation survivors in San Francisco, CA. Dr Bowers will address the anatomy of the clitoris, literally inside and out.
Dr Betty Dodson, PhD Sexologist has been one of the principal voices for women's sexual pleasure and health for over three decades. Dr. Dodson continues her private practice as a sex coach in New York City. She will share her expertise as a sexologist and sex coach to help women overcome their taboos and hang ups about their clitoris and sexual pleasure.
Michael Lenke, German inventor of the innovative vibrator The Womanizer that is revolutionizing the way women stimulate their clitoris.
Florence Laudoyer, Sassy Sensual Meditation guide and Raelian Priestess will present playful clitoral masturbation techniques with hands and toys.
Shizue Kaneko, Japanese Sensual Meditation guide and Raelian Priestess will share in the art of "owning one's orgasm" as a gateway to one's happiness and ultimately universal peace. She will address 'inhibited sex' as a vessel to enhance femininity and refinement.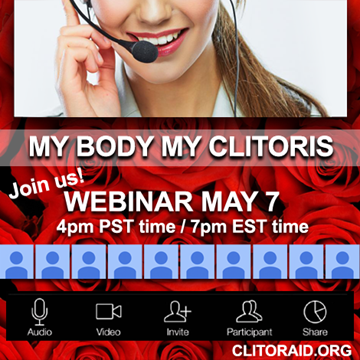 Web-conference link page access: https://zoom.us/j/268343528
Link concerning event: http://clitoraid.org/news.php?extend.187 
Looking forward to your virtual presence.
Orgasmically yours, :))
Lia Steinman, Head of Clitoraid USA
Time

(Saturday) 7:00 pm - 8:00 pm Eastern